Verona, the city of romance and dreams. It is certainly not by chance that William Shakespeare chose this enchanting city as the foundation of his renowned masterpiece "Romeo & Juliet." Verona is a city that lived through the centuries and that continues to reveal its acquired charm in the present. Although its origins are unclear, the town reflects the poetry, passions, conflicts and traditions of its past, allowing visitors to feel and experience all the love and struggles of this timeless Shakespearian love story.
Every steps leads to a new discovery, every glance generates a sense of history, every breath unveils a new fragrance, every sound creates a new musical composition and every stroke of a hand unleashes a sense of belonging. Perfect foundations for the creation of a new family, don't you think?
City of love and rebirth, Verona is the ideal destination for all couples that are planning on making the most important vow of their lives: marriage!
There are so many great locations to choose from to make that perfect day absolutely unforgettable and whimsical: Juliet's balcony, the Fresco Museum, the Barbieri Palace, the Ragione Palace or one of the many historical Villas immersed in the colorful and fragrant vineyards of the towns standing outside of the city's walls. All great prospects for a fabulous "Italian-style" wedding.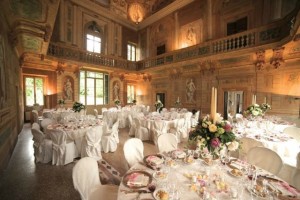 Of course, like in all other countries worldwide, there are a few legal requirements that must be met before being able to pronounce the ever so longed for "I do." However, you're in luck! Our expertise on the matter can guide you every step of the way: from getting in touch with the local authorities to organizing the wedding, from the paperwork needed to the wedding publications and by assisting you on that very special day as your very own personal interpreters if you do not speak Italian! You just give us the date and we'll take care of the rest, including your wedding reception if needed!
Do not miss this incredibly fantastic opportunity to say "will you take me as your beloved husband or wife" in the most enchanting and romantic place on our planet… Verona! Amidst the Arena and splendor of a city bursting with love. Become a part of a history that continues to live. Open your heart and make that special promise in a town that was born to be passionately felt and experienced, long before Shakespeare and well after tomorrow… but that is another story.